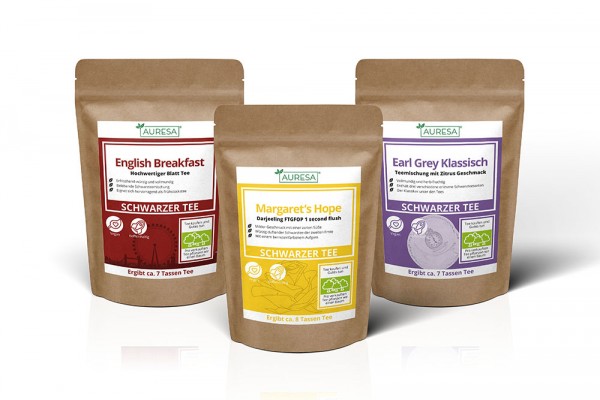 Full-bodied Earl Gray, spicy English breakfast and a mild Darjeeling.
more
Very British Tee Set
Full-bodied Earl Gray, spicy English breakfast and a mild Darjeeling.
Ingredients:
Earl Grey Klassisch: black tea Ceylon, -South India, -China, natural flavouring

English Breakfast: black tea

Margaret's Hope: black tea
Lebensmittelunternehmer: AURESA e.K. | Friedrichstr. 50A | 63450 Hanau
Read, write and discuss reviews...
more
Customer evaluation for "Very British Tee Set"
Write an evaluation
Evaluations will be activated after verification.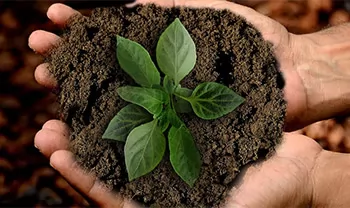 Sustainability
Protecting the environment and the climate is an important issue that concerns us all. That's why we use resealable paper bags and reusable glases for our loose teas and ship climate-neutral with DHL GoGreen.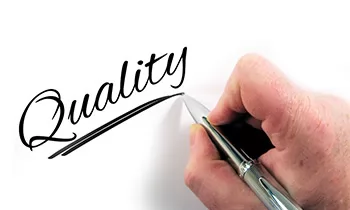 Highest quality
The name AURESA is derived from the Latin word "aurum", which means "gold". Because our teas are just as noble and exclusive as the beautiful metal. We offer you excellent service, with excellent specialist knowledge and qualified advice.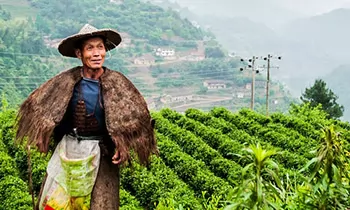 Fairness in trade
For us, the focus is on people. It is important to us that everyone involved in the production process is treated fairly. That is why we maintain very close contact with our manufacturers and suppliers and only include teas in our range that have convinced us from A for cultivation to Z for suppliers.
These are our promises that you can always rely on. We want you to always be able to enjoy your tea in the best possible quality and with a clear conscience.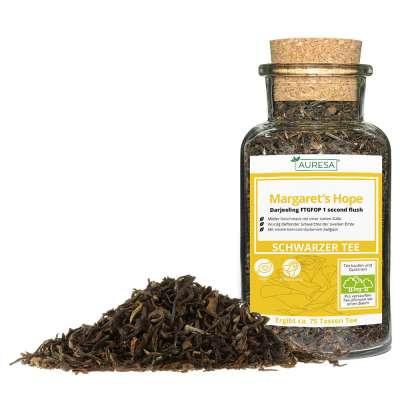 Darjeeling Margaret's Hope
FTGFOP 1 second flush
Content
10 Gramm
(175.00€ * / 1000 Gramm)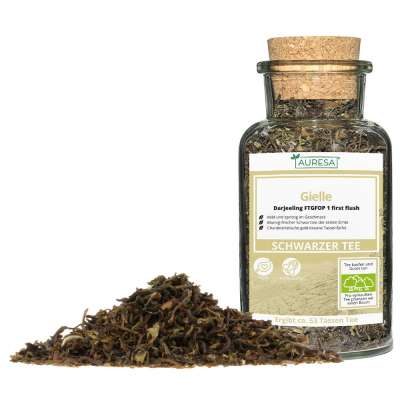 Gielle
Darjeeling FTGFOP 1 first flush
Content
10 Gramm
(159.00€ * / 1000 Gramm)