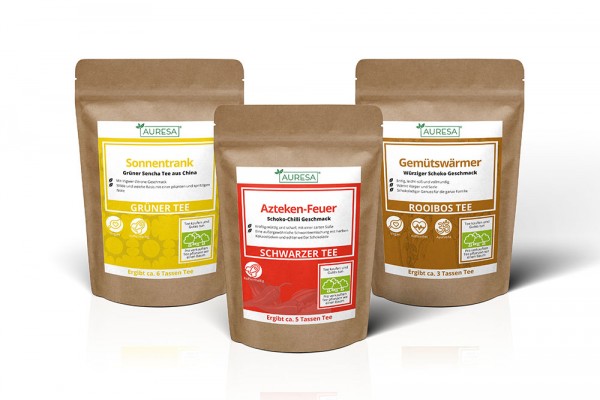 Fiery, chocolatey black tea, mood warmer with a fine note of vanilla and the mild green tea sun...
more
Innere Wärme Tee Set
Fiery, chocolatey black tea, mood warmer with a fine note of vanilla and the mild green tea sun potion.
Ingredients:
Azteken-Feuer: black tea Ceylon, -South India, cocoa bits(15%), flavouring, rose pepper, white chocolate bits(sugar, wholemeal crisps(wholemeal wheat flour), wheat starch, wheat germs, sugar, salt), cocoa butter, whole milk powder, emulsifier: soy lecithin, flavouring: vanilla extract) (2.5%), chili bits(1%)

Gemütswärmer: cocoa bits(25%), rooibos, ginger bits, roasted chicory root, barley malt, cinnamon, cinnamon sticks, flavouring, cardamom, black pepper

Sonnentrank: green tea China Sencha, ginger bits(10%), natural flavouring, orange peels, lemon peels(3%), sunflower blossoms
Lebensmittelunternehmer: AURESA e.K. | Friedrichstr. 50A | 63450 Hanau
Read, write and discuss reviews...
more
Customer evaluation for "Innere Wärme Tee Set"
Write an evaluation
Evaluations will be activated after verification.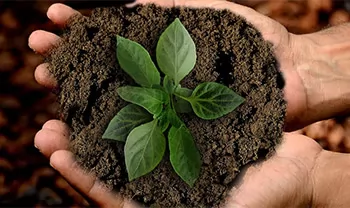 Sustainability
Protecting the environment and the climate is an important issue that concerns us all. That's why we use resealable paper bags and reusable glases for our loose teas and ship climate-neutral with DHL GoGreen.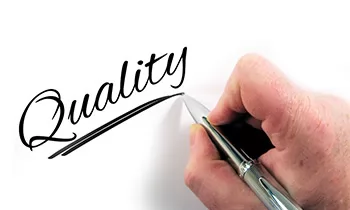 Highest quality
The name AURESA is derived from the Latin word "aurum", which means "gold". Because our teas are just as noble and exclusive as the beautiful metal. We offer you excellent service, with excellent specialist knowledge and qualified advice.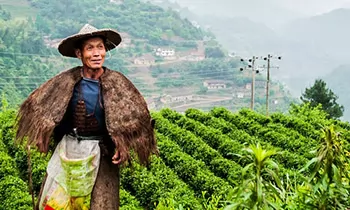 Fairness in trade
For us, the focus is on people. It is important to us that everyone involved in the production process is treated fairly. That is why we maintain very close contact with our manufacturers and suppliers and only include teas in our range that have convinced us from A for cultivation to Z for suppliers.
These are our promises that you can always rely on. We want you to always be able to enjoy your tea in the best possible quality and with a clear conscience.